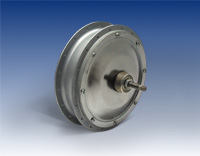 "Kollmorgen PowerTrac™
Electric hub series motor
Kollmorgen, Radford, VA (April 28, 2000)

-- Kollmorgen has announced its new electric hub series motor. The Kollmorgen PowerTrac™ servodisc motor has a slotless design with an integral gearbox.
It operates on both 24 and 36 Vdc for battery operation.
Continuous output power is 100 - 500 Watts.
The motor provides long life, reliability and responsive performance.
Kollmorgen's slotless winding design offers many benefits when compared to conventional DC motors.
In a servodisc motor, the armature winding is a stamping with conductors of square cross-sections.
There is no iron in the armature and no armature slots.
This construction gives the motor a high copper density but also a low rotating mass.
A high copper density increases the torque of the motor for a given motor volume.

Kollmorgen PowerTrac provides zero cogging for smooth operation.
The motor offers low noise, low weight and a flat profile for a compact package size.
The direct drive hub design allows wheels to be mounted directly to the hub or molded with a urethane tire.
Typical applications are electric bicycles, light electric vehicles, wheelchairs, industrial carts and scooters.

Kollmorgen (KOL) is a global leader in providing high performance motion control components and systems to industrial, commercial, aerospace and defense customers worldwide."