JOHN R. BROOKS,Jr.
b.9/8/1864(TN)d.10/3/1907(TN)
ROSA HOBBS
b.7/11/1872(TN)d.10/9/1955(TN)
m. 1890
---
---
Had Issue
---
---
1. Ora Brooks b.1891 d.1971 m. Preston Meeks
---
2. Robert Doss Brooks b.1891 d.1891
---
3. Olive Brooks b.1892 d.1940 m. Van McBee
---
4. Lena Brooks b.1897 d.1990 m. Garnett Roddy
---
5. Lois Brooks b.1899 d.1996 m. Marvin Henley
---
6. Dorothy Brooks b.1901 d.1985 . William Reed
---
7. Johnnie Brooks b.1903 d.1971 . Roy Reed
---
8. Hayes Brooks b.1905 d.1996 m. Claude Hutchinson ; dau. Claudia(Kitty) Bost
---
9. JESSE R. BROOKS
1908-1978
FRANCES PARK
1910-1997

*Note: JOHN R. BROOKS,Jr. Killed In The Street Hill Mine Cavein,Grundy Co. Tn. (10/3/1907)
---
circa: 1927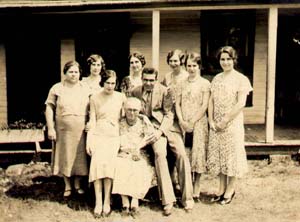 Back Row L.-R.:Ollie,Lois,Ora,Johnnie,Dorothy, Lena, Front Row: Hayes, Rosa Hobbs Brooks,Jesse R.

---
ROSA HOBBS LINEAGE
NUNLEY LINEAGE (MATERNAL)

Early in the 1800s, Archibald; John; Thomas; WILLIAM; and JEREMIAH NUNLEY sold lands in Rutherford County, North Carolina and migrated to Warren County (later to Grundy county), Tennessee. Some of the early Nunley men married Cherokee wives before leaving North Carolina.
Note: As a child, I remember Granny Brooks telling me of an indian woman who married one of the Nunley men.


JEREMIAH NUNLEY
b.1774(VA)
SARAH....
b.1790(NC)




HAD ISSUE



1. Jeremiah b.1807(TN) m. Elizabeth b. 1810(TN)
2. William b.1808(TN) m. Nancy b.1809(VA)
3. John b.1812(TN) m. Elender b.1813(TN)

4.DAVID NUNLEY
b. 1820(TN)
SARAH .........
b. 1817(TN)




HAD ISSUE
(All Born In Tennessee)



(1) Jeremiah b.1839
(2) Cely b.1841
(3) Matison A. b.1842
(4) James M. b. 1844
(5) Pherba b.1845
(6) John L. b. 1846
(7) Delpha b. 1847
(8) Fry C. b.1848
(9) Tennessee b.1850 (Note:Aunt Lena Roddy told me,when she was a child, she remembered her "Aunt Tennie" visiting them.
(10) Carroll D. b. 1851
(11) Sarah b. 1852
(12) Davis b. 1853
(13) George H. b. 1857
(14) ESTER C.NUNLEY b.1853 m. CALVIN HOBBS b 1853


Parents Of ROSA HOBBS BROOKS












HOBBS LINEAGE (PATERNAL)





WILLIAM NORTHCUTT (VA?)




HAD ISSUE




LYCHIA ENGLAND
b.1764(VA)d.1868(TN)




Note: JOHN NORTHCUTT was born in Lee County, Virginia. He allegedly died in the battle of New Orleans on Jan.9,1815.





HAD ISSUE



1. NANCY NORTHCUTT b.1780 m. EZEKIEL HOBBS b.1775(VA)
2. Miancy Northcutt m. John Tipton
3. Isaac Northcutt m. Jane
4. Richard Northcutt (died at battle of New Orleans, 1815)
5. John Northcutt,Jr. (died at battle of New Orleans, 1815)


EZEKIEL HOBBS
b.1775(VA)
NANCY NORTHCUTT
b.1780
HAD ISSUE
RICHARD HOBBS
b. 1807(TN)
ESTER......
b.1805(NC)




HAD ISSUE




(All Born In Grundy Co., Tennessee)



1. Richard Hobbs b.1828
2. Betsey Hobbs b.1833
3. Christopher Hobbs b.1835
4. William b.1837
5. John Hobbs b.1839
6. Amanda Hobbs b.1841
7. James Hobbs b.1842
8. Taylor Hobbs b.1844
9. George Hobbs b.1845
10. Anderson T. Hobbs b.1846
11. Evelina Hobbs b.1847
12. Harriett Hobbs b.1849
13. CALVIN HOBBS b. 1853 m.ESTER NUNLEY b.1858


Parents of ROSA HOBBS BROOKS