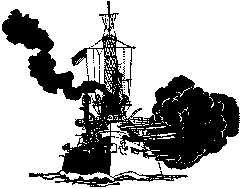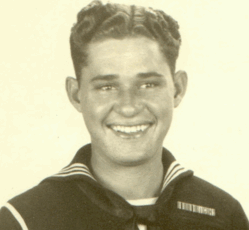 Seaman First Class Robert E, Haley served in the United States Navy from 29 Dec.1942 to 12 Jan.1946.
After boot camp, he was assigned to the Battleship USS Idaho where he served for the duration of the war.
The USS Idaho returned to San Francisco 7 September 1943 to prepare for the invasion of the Gilbert Islands. Moving to Pearl Harbor, she got underway with the assault fleet 10 November and arrived off Makin Atoll 20 November. She supported the fighting ashore with accurate gunfire support and antiaircraft fire, remaining in the Gilberts until sailing for Pearl Harbor 5 December 1943.
Next on the Pacific timetable was the invasion of the Marshalls, and the veteran battleship arrived off Kwajalein early 31 January to soften up shore positions. Again she hurled tons of shells into Japanese positions until 5 February, when the outcome was one of certain victory. After replenishing at Majuro she bombarded other islands in the group, then moved to Kavieng, New Ireland, for a diversionary bombardment 20 March 1944.
Idaho returned to the New Hebrides 25 March, and after a short stay in Australia arrived Kwajalein with a group of escort carriers 8 June. From there the ships steamed to the Marianas, where Idaho began a pre-invasion bombardment of Saipan 14 June. With this brilliantly executed landing assault underway 15 June, the battleship moved to Guam for bombardment assignments. As the American fleet decimated Japanese carrier air power in the Battle of the Philippine Sea 19 to 21 June, Idaho protected the precious transport area and reserve troop convoys.
After returning briefly to Eniwetok 28 June to 9 July the ship began pre-invaslon bombardment of Guam 12 July, and continued the devastating shelling until the main assault eight days later. As ground troops battled for the island, Idaho stood offshore providing vital fire support until anchoring at Eniwetok 2 August 1944. The ship continued to Espiritu Santo and entered a floating dry dock 15 August for repairs to her "blisters." After landing rehearsals on Guadalcanal in early September, Idaho moved to Peleliu 12 September and began bombarding the island, needed as a staging base for the invasion of the Philippines.
Despite the furious bombardment, Japanese entrenchments gave assault forces stiff opposition, and the battleship remained off Peleliu until 24 September providing the all-important fire support for advancing Marines. She then sailed for Manus and eventually to Bremerton, Wash., where she arrived for needed repairs 22 October 1944. This was followed by battle practice off California.
Idaho's mighty guns were needed for the next giant amphibious assault on the way to Japan. She sailed from San Diego 20 January 1945 to join a battleship group at Pearl Harbor. After rehearsals she steamed from the Marianas 14 February for the invasion of Iwo Jima. As Marines stormed ashore 19 February Idaho was again blasting enemy positions with her big guns. She remained off Iwo Jima until 7 March, when she got underway for Ulithi and the last of the great Pacific assaults — Okinawa.
Idaho sailed 21 March 1945 as part of Rear Admiral Deyo's Gunfire and Covering Group and flagship of Bombardment Unit 4. She arrived offshore 25 March and began silencing enemy shore batteries and pounding installations. The landings began 1 April, and as the Japanese made a desperate attempt to drive the vast fleet away with suicide attacks, Idaho's gunners shot down numerous planes. In a massed attack 12 April the battleship shot down five kamikazes before suffering damage to her port blisters from a near-miss. After temporary repairs she sailed 20 April and arrived Guam five days later.
The veteran of so many of the landings of the Pacific quickly completed repairs and returned to Okinawa 22 May to resume fire support. Idaho remained until 20 June 1945, then sailed for battle maneuvers in Leyte Gulf until hostilities ceased 15 August 1945.
Idaho made her triumphal entry into Tokyo Bay with occupation troops 27 August, and witnessed the signing of the surrender on board Missouri 2 September. Four days later she began the long voyage to the east coast of the United States, steaming via the Panama Canal to Norfolk 16 October 1945.
She decommissioned 3 July 1946 and was placed in reserve until sold for scrap 24 November 1947 to Lipsett Inc., of New York City.
The USS Idaho received seven battle stars for World War II service.




NEXT